The best way to introduce this epic banana split protein ball recipe is with one of my tastiest memories – the one which served as the inspo for this creation.
Now. Do you remember the first time you walked into an ice cream shop as a kid?
The sweet aroma of freshly pressed waffle cones swirling through the air…an artsy handwritten menu filled with flavors you didn't have enough patience to read…your tiny face smooshed into the glass case of endless multi-colored rows of ice cream…
And your parent's hand, calmly holding yours, even though they were fully aware you were about to make the poor ice cream scooper your "can I taste 79 flavors before I pick just one?" victim behind the counter.
Nostalgia is just the cutest thing — especially when there's ice cream involved.
Growing up, my go-to order was one of two licks: a thick chocolate milkshake, or what my local ice cream shop affectionately referred to as "Blue Goo" – An infamous swirl composed of vanilla soft serve ice cream dressed in pretty cotton candy blue ribbons.
But on special occasions, my family would order a gargantuan banana split to share.
The Banana Split Always Stole The Show.
It started with three scoops of chocolate, vanilla and strawberry ice cream.
Each scoop was kissed with a pillowy mountain of fresh whipped cream, maraschino cherries, chopped walnuts, sprinkles and chocolate sauce, all sandwiched in between two freshly sliced banana halves.
It was truly an edible masterpiece!
While the traditional banana split may feel past its prime — how could it not? The iconic dessert is rumored to have been around since 1904 — it's flavor profile continues to reign supreme amongst those with a sweet tooth. Myself included.
Today we're giving this American classic a healthy makeover in the form of deliciously fun protein balls.
Make Protein Balls, Not War.
If Kanye West can legally change his government name to a single syllable (Ye) without question, banana splits can transform into protein packed one-bite wonders designed to slim down your waistline.
Before you whip out the mixing bowls and measuring spoons, let's dig into this recipe's secret ingredient: Unico's Apollo Banana Cream Pie Protein powder.
The thought of protein powder often comes with visuals of overly built muscle men in tight neon tank tops sipping on chalky drinks in cute shaker bottles.
Thankfully, here at Unico, we're changing the narrative.
Our Apollo Banana Cream Pie Protein powder is silky, universally inviting and best of all, it doesn't come with a side of 'manufactured in a lab' flavors — it actually tastes like a real, ripe banana…
Hence why it's perfect for this recipe.
Aside from a mouth party for your tastebuds, Unico's Apollo Banana Cream Pie Protein powder was designed to help you lose weight, recover after a hard workout and give your body an extra boost of daily nutrition.
While you can shake it with your favorite milk or blend it into your pre-yoga smoothie, I highly recommend you keep scrolling for your new favorite snack, Banana Split Protein Balls.
This recipe is gluten-free, takes less than 10 minutes to make, and can be stored in the refrigerator for up to 5 days.
So, what are you waiting for? Let's get in the kitchen and start making some protein balls.
Banana Split Protein Ball Recipe
Recipe makes 9 balls
Ingredients
Chocolate swirl
1/4 cup oat flour
3 tablespoons cacao powder
1 1/2 tablespoons brown sugar
2 teaspoons vanilla
1/8 teaspoon salt
1 1/2 tablespoons cold butter, diced
Ice cream base + the fixins
1/2 cup blanched almond flour
1/2 cup oat flour
1/2 tablespoon vanilla extract
1/8 cup raw wildflower honey
1/4 cup unsweetened vanilla almond milk
1/4 cup crushed freeze-dried strawberries
Sprinkles, for garnish (optional)
Directions
In a medium bowl, mix together all chocolate swirl ingredients. Use your fingers to pinch the butter into the dry ingredients until the batter comes together. Mold the batter into a flat disk and set aside.
In a separate bowl, combine all ice cream base + the fixins ingredients — except the freeze-dried strawberries. You can use a spoon, but I find it easier to mix using my hands. When the mixture comes together (it should be the consistency of Play-Doh, channel your inner child!), fold the freeze-dried strawberries into the batter until well incorporated. Shape into a second disk.
Twist both batter disks together, creating a marbled vibe. Be careful not to overmix, or you'll lose the playful swirl of colors.
Use a small cookie dough or ice cream scoop to make deliciously uniform protein balls.
Scream for ice cream, but eat these instead. Enjoy!
Recipe notes:
You can make this recipe dairy-free by swapping out the butter for another alternative like coconut oil. For best results, make sure it's solid and cold when using it in the recipe.
Not a fan of honey? No biggie. Switch it out for agave, date syrup or any comparable sweetener that's sitting in your pantry.
Almond milk is my preferred milk alternative, but you can use any milk that calls out to you. This is your ice cream social – I'm merely invited to it.
Recommended Reading: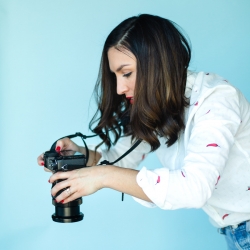 Latest posts by Melissa Santell
(see all)