Protein fluff is the stuff of legends. Its texture is light and playful. It has bold flavors. Its filling, and satisfies that need for something decadent. And let's face it – protein fluff makes for excellent social media content. Today, we're going to teach you how to make it.
Before we get to fluffin'…let's talk about you, more specifically, about the day you entered this lovely world.
On Birthdays:
The day you were born is a pretty substantial moment in time.
In fact, it's basically the most important day of your life.
As the number of candles topping your perfectly frosted birthday cake slowly increases, you begin to ask yourself existential questions like, "What's my purpose?" and "Will my date think I'm absolutely bonkers if I ask for his birth time and location in the middle of Taco Tuesday?"
What can I say? The stars don't lie when it comes to compatibility.
But since our celebratory trip around the sun only happens once a year, I'm a huge advocate for honoring each and every day leading up to your birthday.
And why wouldn't you? You are a living, breathing sensation, my friend.
With that said, I'd like to wish you a very happy unbirthday.
Your party starts with a spoonful of Unico's APOLLO Birthday Cake Protein Fluff.
Protein Fluff, an Intro
If you're a protein fluff novice, allow me to introduce you to this sinfully tasty, low-calorie snack.
It's inviting, creamy, slightly addicting and, just like our (highly-aesthetic) protein waffles, you may even find yourself tempted to share it on Instagram.
(Or Tik-Tok…Isn't that what the kids are doing these days?)
You probably won't want to share it with someone else in real life though, because it's just that good.
To whip up this magical concoction, nutrient-rich protein powder is blended with frozen banana, unsweetened vanilla almond milk and xanthan gum.
All you need is:
a blender
a pinch of dedication, and
less than five minutes
…to bring this treat to fruition.
Xanthan gum paired with Unico's silky protein powder is what gives the fluff its notorious "oomph", and also allows for more volume / "fluffiness" in your finished product.
If you don't have xanthan gum on hand, you're welcome to use ground psyllium husk or pudding powder as a substitute.
Fair warning: the pudding powder will give this dessert a more artificial flavor, but hey, it's a personal preference.
Aside from loving this recipe for its iconic cake flavor and built-in funfetti sprinkles, you can plan to be pleasantly surprised by its health benefits, too.
Protein Fluff – A Tasty Way to Get More Protein
With 24 grams of grass-fed protein per serving, Unico's APOLLO Birthday Cupcake gives you a sweet dessert experience that can actually help you lose weight. *Uh huh, you read that correctly.*
Protein is the star ingredient in this recipe, which means after you've spooned your way to the bottom of your dessert cup, you can expect to feel fuller for longer and overall, extremely satiated.
The best gift of all? Your body uses more energy to digest protein and in turn, gives your metabolism a natural boost.
And while most of us are aware of the benefits of protein, the fact is that it's hard to get enough protein per day.
Thinking of a protein-packed sweet as a healthy weight loss tool can feel ironic, but if you ask me, it's something to celebrate. Just like you.
Not in the mood for cake? Swap out Unico's birthday cupcake flavor for Banana Cream Pie Protein, Chocolate Peanut Butter Cup or Salted Caramel.
After all, it's your party – you can eat what you want to.
Protein Fluff Ingredients
Makes 1 serving.
1 frozen banana
1/2 cup unsweetened vanilla almond milk
1 teaspoon xanthan gum
Directions:
In a blender or food processor, combine one frozen banana, one scoop of Unico Birthday Cupcake protein powder and unsweetened vanilla almond milk. Blend on high for 1 minute, or until icy smooth.
Use a spatula to push the mixture down the sides of the blender. Add xanthan gum. Blend for 30 seconds – 1 minute. Once the mixture begins to fluff, it's ready to dig into!
Spoon the fluff into your unbirthday chalice and devour it immediately.
Recipe notes:
For my friends who don't love bananas – swap out the frozen banana for ½ – ¾ cup of ice. Using ice will result in a less creamy and more, well, icy texture. Don't worry though, it won't impact your fluff-ability.
This recipe is meant to be enjoyed within minutes of blending. Like other frozen treats, it can become a melted flavor mecca without even trying. Although, something tells me you'll be eating it the moment it's ready.
Recommended Reading: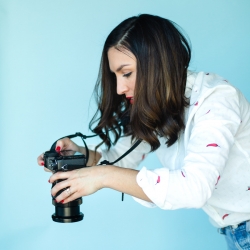 Latest posts by Melissa Santell
(see all)