Protein pancakes are the key happiness. Now. I know that is a bold statement, but just hear me out first, and then I'll share the best protein pancake recipe on the entire internet. Or Metaverse. Or whatever we're calling it these days.
Look. The only thing better than waking up to the smell of thickly-sliced applewood bacon is being served a full continental breakfast in bed.
Mango mimosa included. (Or peach pre workout, if you're into that sorta thing.)
While that has yet to happen to me personally, I imagine it'd go something like this: 
A human who adores you tip-toes slowly towards you, in an attempt not to spill your perfectly swirled coffee.
You sit up gingerly and raise your arms towards the sky, sporting a smile out of anticipation. 
You quickly remember that you haven't even looked in the mirror yet (eeeep!), but then get distracted by the acrylic tray of beautiful breakfast foods waltzing in your direction.
There's a small plate of lightly crisped bacon from the Sunday farmer's market, homemade hash browns studded with caramelized onions, a tiny cup of fresh strawberries, and then in the center, one gigantic stack of fluffy protein pancakes with a pad of melted butter playfully sinking into the middle.
It Feels Like You Won the Lottery.
And you did – especially if your imaginary pancakes were these protein-packed cakes made with Unico's Signature Apollo Vanilla Ice Cream Protein Powder.
While breakfast is said to be the most important meal of the day, protein is an essential component of every well-balanced diet. So, you might say, the two were destined for each other. Romeo and Juliet, style. 
Unico Apollo Vanilla Ice Cream Protein Powder gives these pancakes a creamy, smooth vanilla flavor, which is perfectly accentuated by unsweetened vanilla almond milk and vanilla bean greek yogurt. 
When you fork-and-knife your way through this stack, you'll be greeted by a cake-like consistency that's cloud-like to the eye and pleasing to the palate.
Almond flour makes them naturally gluten-free, while creating a texture you'll fantasize about long after the meal comes to a close. 
But, do you really need the protein powder?
I'm glad you asked. Studies have shown that high protein diets can do incredible things for you like enhance your workouts, help shed unwanted weight and add more lean muscle.
So, if you've been thinking about refining your workout routine or adjusting your fitness goals, these pancakes are a perfect place to start.
And hey, if you're lucky, someone will serve them to you in bed.
The Ultimate Protein Pancake Recipe
This recipe makes about 6 fluffy pancakes. The perfect amount for sharing (or not, if you're absolutely starving!).
One tip is to use real maple syrup to make this recipe completely and utterly perfect. Sometimes I also like to change it up and use the birthday cake protein powder instead of vanilla, for a bit of festive flair.
I featured the b-day cake protein in my protein waffle recipe with magical results, and you can expect the same here if you choose to make the substitution.
Now without further ado, let's get these flapjacks flippin'!
Ingredients:
Makes 6 pancakes
2/3 cup Fine Blanched Almond Flour
1 1/2 teaspoons Baking Powder
2 eggs
1/3 cup Vanilla Bean Greek Yogurt
1 tablespoon Olive Oil
1/4 cup unsweetened Vanilla Almond Milk
Zest of ½ a lemon, for a citrus zing
Maple syrup + butter, for serving
Optional add-ins:
Blueberries, fresh or frozen 
Rainbow sprinkles 
Fresh banana slices
Directions:
In a blender, combine all ingredients. Blend for 1-2 minutes until smooth, using a spatula to push batter down the sides of the blender, if needed. If you're adding blueberries, sprinkles or fresh banana slices, fold them into the batter once mixed.
Heat a nonstick skillet or griddle over medium heat. If you're using an electric griddle, preheat to 350 degrees. You're welcome to melt a pad of butter onto either if you're feeling extra, but it's not 100% necessary.
Use a ¼ measuring cup to pour batter onto the griddle. Cook 1-2 minutes per side before flipping.
Serve with maple syrup, peanut butter, ice cream, powdered sugar, fresh berries or devour your pancakes naked on your car ride to work. This is a no judgment zone, my friend.
Enjoy – and share this recipe with a friend if you love it!
Recipe notes:
You can freeze these bad boys by placing the pancakes on a baking sheet (in a single layer) and freezing for 30 minutes. Then transfer them to a freezer safe container and store for up to 3 months. When you're ready to devour them, put pancakes on a plate and microwave for 30-60 seconds.
Recommended Reading: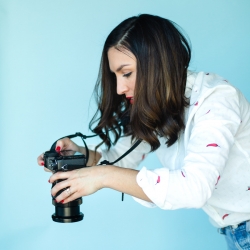 Latest posts by Melissa Santell
(see all)