Another International Pancake Day is upon us, and since it is 2020 we decided to cook up a modern take on the classic pancake recipe. Unlike most pancakes that will leave you in need of a long late-February nap, our vegan protein pancakes are loaded with high quality plant-based protein and other superfoods that will power you through your day.
I have just two questions for you before we get started.
Do you love breakfast food, specifically pancakes?
Do you love sends snaps / IG of your most beautiful feasts to your friends to make them jealous?
If you answered 'YES' to both, then this pink pancakes recipe is for you.
Look- I absolutely ADORE pancakes. But to be honest the sugar-rush, and corresponding mega-crash that I get after eating them makes them super hard to eat before a busy work day.
That's why for pancake day 2020 we re-created the classic pancake recipe using our Gemini plant-based superfood so that they actually fuel your body and mind instead of just giving you a short burst of maple-syrup rocket-fuel.
These secret to these pink pancakes is in the ingredients. Instead of a standard pancake mix, we are going to use our nutrient-dense Gemini powder, and some organic ground corn-meal. These two ingredients contain healthy proteins, low-GI carbohydrates, and healthy fats (non-GMO coconut oil powder in Gemini).
And the coolest part? They are actually bright pink (if you use the Wild Berry Dreams Gemini flavor, which we highly recommend)
Top these pink vegan protein pancakes with some fresh berries and a touch of real maple syrup, and maybe even a dab of peanut butter if you're feeling naughty.
Let's turn on the griddle and get cookin'.
Pink Vegan Protein Pancake Recipe Ingredients:
1.5 Scoops Gemini Vegan Meal Shake
3/4 Cup Ground Cornmeal (We used Bob's Red Mill brand)
1 Cup Water
3/4 Cup Milk (dairy, almond, oat, etc.)
1 Cup Organic White Flour
1/4 Cup Vegetable Oil
1 Tsp Baking Powder
1 Tsp Salt
1 Tsp Sugar
Handful of Fresh Strawberries and/or Raspberries
4 oz Real Maple Syrup
2 Tbsp Grass-Fed Butter (if you are not strictly vegan) or 1 Tbsp Peanut Butter (optional)
Vegan Pancake Directions:
Microwave or boil 1 cup of water and add to cornmeal in a mixing bowl. if using the microwave, get that water nice and hot!
Stir hot water and cornmeal until the blend starts to thicken.
Add your milk and vegetable oil to the mixture and stir (and one egg if you would like a little more texture and aren't strictly vegan).
Slowly sift in the rest of your dry ingredients (flour, salt, baking powder, sugar, and Gemini), until mixed evenly. Batter does not have to be terribly thick at this point!
Time to cook. Turn your griddle (or frying pan) up to a low heat, and grease with butter (or cooking spray if vegan).
Slowly ladle about 1/4 cup of your vegan protein pancake batter onto your cooking surface. Pour into one central spot, and let the batter spread into a circular shape.
Let the pancake cook for 3-4 minutes and then flip with spatula.
Cook for 2-3 minutes on the second side, and then remove from griddle.
Repeat until your batter is gone.should make about 6 5″ pancakes!
Top with berries, syrup, and maybe even a dab of peanut butter or grass-fed butter, and enjoy!
We love these pancakes before or after a hard workout – the protein and high quality carbohydrates make for a fantastic exercise fuel.
Recommended Reading: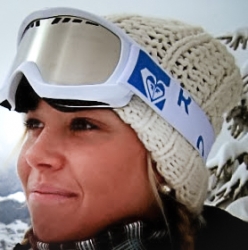 Latest posts by Erin Alessander
(see all)