Do you need Protein Chia Seed Pudding in your life? Let's find out with a quick test. Let me know if this sounds familiar. Have you ever speed-raced out the door for work? Or thrown a blouse over your pajamas for an early Zoom call? Yep. I thought so. Keep reading.
You know that undeniable sense of urgency that happens between the hours of 6 and 9 a.m.?!
Some people refer to these witching hours as peak productivity time, while others prefer to snooze their alarm clock until their body sends an internal smoke signal that screams, "Okay, it's REALLLLLY time to get up!"
I don't know about you, but I'm more of a snooze button gal myself.
However, on days where I have early meetings and tight deadlines, grab-n-go meals like Unico's Peaches 'n Cream Protein Chia Seed Pudding are the glue that keeps my morning routine together.
There's also persistence, commitment and dedication to carpe-ing the sh*t out of that diem — but today we're focusing on this edible game changer.
My Inspo for This Chia Pudding:
What can I say? Pre-made snacks are the edible mojo that keep our physical tanks from hitting "e" before the magic even begins. And this recipe is Austin Powers.
Starting with the taste, sweet, ultra ripe peaches are a dreamy match for creamy, coconut milk based chia seed pudding.
Yes, I'm on a bit of a peach kick as you know if you read my peach-themed collagen donut post.
What takes the flavor profile a full step further is infusing it with Unico's Vanilla Milkshake Protein Powder. Unlike other protein powders that can be chalky or cakey, Unico's formula effortlessly melts into the pudding.
It's nostalgic vanilla ice cream flavor will have you feeling like a kid again… until you get your first meeting reminder of the day, that is.
Oh Hey, Chia..
If you're new to chia seeds, you can expect a mini surprise with every bite. When submerged in liquid, these crunchy seeds transform into gel-like treats, similar to tapioca pearls.
While they don't have an immense flavor, chia seeds add a fun textural pop to an otherwise pillowy pudding.
They're also insanely good for you! Black and white chia seeds (you can use either in this recipe) are an A+ source of omega-3 fatty acids, filled with antioxidants, and are known for their fiber, iron, and calcium perks.
When paired with Unico's Vanilla Milkshake Protein Powder, you'll feel full, energized and more in control of your appetite.
This fool-proof recipe is simple to make and easy to devour while leaning against your kitchen counter scrolling through Instagram.
The best part? Having it prepped will streamline your morning routine so much that you may even have time to squeeze in a meditation before your BFF's texts come flooding in. I call that a win-win.
Ready to own the day? Take advantage of the tail-end of peach season with Unico's Peaches 'n Cream Protein Chia Seed Pudding. You'll love it as much as I love the snooze button.
Peaches 'n Cream Chia Seed Pudding
This recipe makes 3 servings.
Ingredients:
1 1/2 cups unsweetened coconut milk
1/4 cup chia seeds
1 teaspoon maple syrup
Pinch of flakey salt
3 ripe peaches, peeled + cubed
Directions:
In a small bowl, whisk together 1 scoop of Unico Vanilla Milkshake protein powder, 1 1/2 cups of unsweetened coconut milk, 1/4 cup chia seeds, 1 teaspoon of maple syrup and a pinch of salt.
Let chia seed pudding mixture stand for 5 minutes, then whisk again and transfer to the refrigerator to semi-set. Refrigerate for 30 minutes to an hour.
Use a blender to purée 2 and ½ peaches until smooth. Dice the remaining peach half to use as garnish.
In a 7 oz glass, alternate layering fresh peach purée and chia seed pudding until the glass is full.
Garnish with freshly diced peaches and your favorite toppings!
Recipe notes:
For a less sweet treat, omit the maple syrup. I personally like the added sweetness, but the final call is up to you!
You're welcome to use other dairy-free milks you may already have in the fridge. I'm a huge advocate for using what's readily available instead of rushing to the store for recipe ingredients.
When layering the peach purée and chia seed pudding, I used about 2 teaspoons of each for one layer. You can add more or less depending on your preference.
Recommended Reading: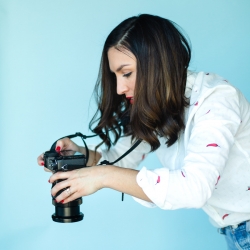 Latest posts by Melissa Santell
(see all)