There is a perfect time and place for this iced collagen latte. Let's paint a picture. You just woke up. It's a Saturday. You have a full day of Summer activities lined up…
You check your phone. The weather is perfect. Hot, Summery, and with no need for sleeves. You pop out of bed and start for the coffee machine…
And this friends, is where the story gets interesting.
You decide to change things up a bit.
You are going to be spontaneous and through the most delightful twist in your routine today!
We all know that these hot Summer days call for iced coffee.
There's no debating it.
It is Mandatory.
And while most of us are creatures of habit when it comes to our caffeinated 'weapon of choice' (pre workout, for 'those' days)…sometimes you just need to change it up.
What better way to change it up then with this…
An Iced Collagen Latte – 'London Fog'-Style.
This easy-to-make iced London Fog tea latte recipe combines the elegance of rose with the iconic notes of earl grey- all while providing the incredible skin-health benefits of our type I & III collagen peptides.
(And the unbelievable hydrating benefits of hyaluronic acid.)
(And your skin's favorite antioxidant, vitamin E.)
👆🏼 Two things that keep your skin very, very happy on a sunny day, I might add.
Now. Let's assemble our ingredients and get this party started. Here's what you'll need for this dreamy collagen latte:
Iced London Fog Tea Latte Ingredients:
1 earl grey tea bag  
4 oz boiling water  
1/4 teaspoon lavender  
1/4 teaspoon vanilla extract
1 scoop Aquarius Collagen Beauty Formula (unflavored)
4 oz vanilla almond milk  
Honey, to taste (swirl it in if you'd like, but it's totally optional) 
Ice
 Rose Whipped Cream Ingredients:
1/2 cup heavy whipping cream  
1/4 teaspoon rose water (I got mine from Whole Foods Market)
1-2 tablespoons powered sugar, to taste
Instructions:
Boil water. Infuse with tea bag, lavender + vanilla. Let steep for 3-5 minutes. Strain the tea.
Whisk in Aquarius Collagen Powder. Sweeten with honey, as desired.
Pour over ice in a glass that makes you feel fancy. Top with almond milk.
To make the whipped cream, beat cold heavy whipping cream, rose water + sugar together until soft peaks form. Garnish your drink with a hefty spoonful.
Drink up!
Recommended Reading: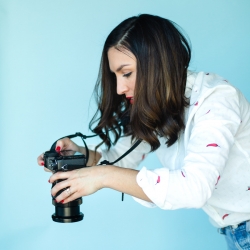 Latest posts by Melissa Santell
(see all)