Summer may be slipping through our fingers, but I think we can all agree that slushie season is forever – especially when it comes with major beauty benefits. And that's why I'm so excited to share this collagen slushie recipe with you.
Heading into this early Fall, I'm skipping the sugar factory we all know and love as the famous 'pumpkin spice latte', and trading it in for a drink that my hair, skin and nails will thank me for.
NOTE: If you simply need those Fall flavors in your life but not the sugar – you gotta check out UNICO's Pumpkin Spice Protein
Enter stage left, Unico's collagen-infused cucumber melon 'beauty slushie'. 
There's almost nothing better than a healthy concoction disguised as a deliciously glorified milkshake, but in case you need additional convincing, read on.
Do I Need A Collagen Slushie?
When the temperature drops, it does a serious number on your skin.
All of a sudden, dry patches you never thought possible magically appear on your face.
Your hair cries out for a new self-care routine.
And while you can finally dig out your favorite cashmere scarf, there's simply no accessory that can dress up a dull, tired complexion…
(although our VIRGO skin-clearing formula can work wonders for complexion!)
In the new season, you'll inherently switch up your daily products and routine, but it's equally as important to hit the reset button on supplements and vitamins, too.
This recipe, made with UNICO's Aquarius Collagen Beauty Booster, is the perfect place to start.
What's so Great About Aquarius?
Well, I am an Aquarius, so, that's one great thing about-
Oh wait you meant the Aquarius collagen.
You see, Aquarius is the queen of glowing skin. This superstar beauty formula keeps your body stocked with collagen, which hydrates and increases your skin's elasticity. Every serving includes benefit-driven Hyaluronic Acid and SunVitol™ Vitamin E, aka the beauty regime power couple of the century.
Hyaluronic Acid works synergistically with Unico's European Grass-Fed Bovine collagen peptides to keep skin moisturized and plump.
Vitamin E, known for its 'photoprotective' properties, increases the skin's ability to mitigate oxidative stress.
I'd say that's a duo worth teaming up with! The cool part is that when it's blended into our cucumber melon slushie, the collagen actually helps create a sorbet-like silky texture.
'Slushies with Benefits'.
1 cup of honeydew melon makes up over 50% of your daily Vitamin C intake. When you sip on a single serving of this collagen-infused slushie, you're not only getting the benefits of our beauty booster, but a handful of vitamins and antioxidants to boot. 
Honeydew is packed with multiple nutrients that are vital for bone health, including folate, vitamin K and magnesium. #huzzah
Cucumbers are made up of nearly 96% water, which can boost your hydration and help you meet your daily H20 needs.
Cucumbers contain a solid amount of fiber, which can help prevent constipation and increase regularity. What can I say? We get by with a little help from our friends. 
Locally harvested honey is my secret weapon during allergy season. Here's why: the same allergens that trigger an allergic reaction in your body are inside of local, raw honey. By ingesting local honey regularly, you're essentially microdosing "shots" of the allergen in tiny servings, which leads to increased immunity. Isn't that nice? You can kick off your regular intake with this recipe. 
Honey is also touted for its immunity and antimicrobial properties, making it a pantry staple for flu season. 
Aquarius™ Collagen Beauty Formula is tested and proven to lead to healthier skin, and reduces the appearance and formation of fine lines and wrinkles. 
The wellness benefits of Aquarius™ Collagen Beauty Formula extend beyond your physical appearance. Each serving promotes healthy bone & joint health, builds muscle tone, and works magic on your hair and nail growth! Have a question? Just ask our team of pros!
Now, it's time for the glow up, friends. This recipe makes two smoothies.
Collagen Slushie Ingredients:
2 cups frozen honeydew melon cubes 
½ cup raw cucumber, peeled + diced  
2 scoops of Aquarius Collagen Beauty Booster (unflavored)
1 tablespoon local, raw wildflower honey 
Squeeze of lime 
½ cup water (add more water for a lighter consistency)
Edible flowers, for garnish if you're feeling fancy
Collagen Slushie Directions:
Combine all ingredients in a blender, then pulse on high until smooth. Pour into your favorite glass and sip! I topped my slushies with edible Blue Cornflower petals for an elevated feel. You can find edible flowers at your local Whole Foods or specialty grocery store. 
Recipe Notes:
If you don't have any honey on hand, swap it out for another natural sweetener like monk fruit or date syrup. I personally love using local honey for its endless health benefits.
Make sure you freeze your honeydew melon prior to making this recipe – that's what gives this slushie its icy texture.😊
Recommended Reading: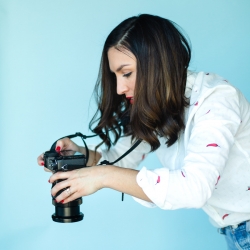 Latest posts by Melissa Santell
(see all)